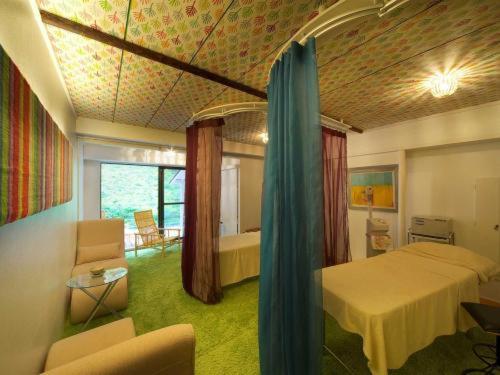 Indulge in one of our deluxe wellness treatments.
Perfect after a long day of sightseeing.
*Female only.
*Spa treatment is for guests who have booked one of the following treatments in advance. Unfortunately, we are not available to arrange these treatments for our guests on the same day.
Beauty Treatments
Facial Menu
Let our experienced esthetician pamper you with premium skincare products. A luxury treatment that provides immediate relief for stress, headaches, and tired eyes.
--Facial--
60 mins ¥5000
60 mins + Ultrasonic Treatment ¥6000
--Facial & Décolleté--
75 mins ¥6000
75 mins + Ultrasonic Treatment ¥7000
Aromatherapy Menu
(
100% natural oil)
Achieve total relaxation with a softly scented massage. Leaves you revitalized and your skin silky smooth. Slow and gentle, and completely pain-free.
--Body--
60 mins (Back) ¥6500
90 mins (Whole Body) ¥6000
--Body & Head--
Body 60 mins + Head ¥7500
Body 90 mins + Head ¥10500
Body 60 mins + Body Pack ¥8000
Body 90 mins + Body Pack ¥11500
*To avoid pain, the massage will be done slowly.
*Our head treatment lasts approximately 15 minutes.
*For the 60 mins menu we provide pack for your back, for the 90 mins menu, we provide pack for your back and decollete. This treatment is recommended for those who suffer from sunburn, skin dullness, impurity, rough skin.
Was ist Rückenmassage?

Backwalking-Massage unterscheidet sich von Akupunktur oder Chiropraktik, diese Behandlung erfolgt mit Füßen, um Muskelschäden zu vermeiden.

Da diese Massage mit Füßen gemacht wird, neigen die Leute zu denken, dass es weh tut, oder sieht unheimlich aus, aber eigentlich ist es grundlegend, um schweres Gewicht oder Schmerzen zu vermeiden, und Sie werden keine Muskelschmerzen als Reaktion auf übermäßiges Massieren erfahren.
System


Nur mit Reservierung. Nur für Frauen

60 Minuten Menü ¥ 6000

Für eine Reservierung rufen Sie bitte an der Rezeption an (Nebenstelle # 100)

Betriebszeit / Mo ~ Do 19: 00 ~ Fr ~ So 17: 00 ~ (letzte Reservierung / 24:00 Uhr Mitternacht)
Refreshing Service
A refreshing service applied after a hot bath for ultimate relaxation.
Menu
40min ¥4000
(Only available in late evenings)
Important information
Treatments are for female guests only.
Treatments must be booked in advance.
Avoid heavy meals 30 minutes before your treatment.
Please inform the esthetician if you have heart disease, high blood pressure or another chronic condition.