Dinner at Mashikokan Satoyama Resort Hotel
At Mashikokan, everything is cooked to your taste, using fresh, locally sourced ingredients, infused with the spirit of Satoyama Forest. We take great pride in taking advantage of Mashiko's rural, natural landscape. Unlike other hotels, we make the most of seasonal flavors. Every dish is uniquely prepared to complement the time of year. You'll feel just like a local!
Make yourself at home in one of our traditional dining halls. One is fitted with genuine Ryukyu tatami, another crafted of all-natural wood. For the discreet minded, why not book one of our private rooms?
Let us know your dietary requirements at the time of booking, so that we can prepare a dinner especially for you. And please tell us if you would like a private dining experience. Our two private rooms are in hot demand!
Please note that dinner is served at a set time only, and only available for guests who booked a room 'with dinner' as we have to prepare ingredients in advance.
Private Dining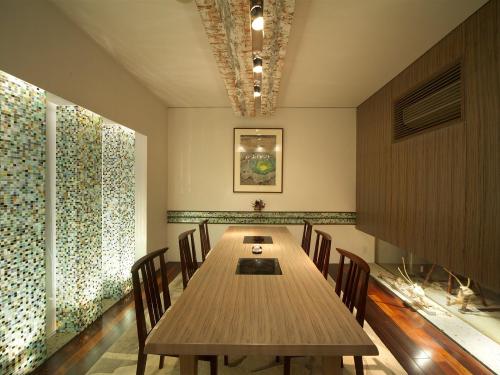 Rin
You'll feel like a VIP in this comfortable forest retreat. With its wooden decor, this private room exudes a rich woody aroma. The minimalist design means you can focus on our sumptuous cuisine.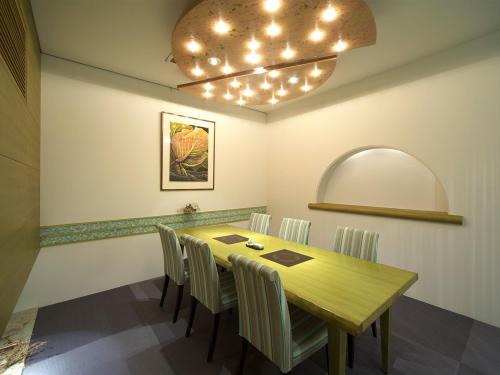 Shizuku
For a relaxing meal in a calm and cozy atmosphere. This private room is furnished with a blend of the modern and natural. The soothing green colors invoke a lush natural habitat.
Our two private rooms are in hot demand. And as we only have two rooms, please let us know if you would like to book the private rooms well in advance.