日本料理
At Mashikokan, everything is cooked to your taste, using fresh, locally sourced ingredients, infused with the spirit of Satoyama Forest. We take great pride in taking advantage of Mashiko's rural, natural landscape. Unlike other hotels, we make the most of seasonal flavors. Every dish is uniquely prepared to complement the time of year. You'll feel just like a local!
Make yourself at home in one of our traditional dining halls. One is fitted with genuine Ryukyu tatami, another crafted of all-natural wood. For the discreet minded, why not book one of our private rooms?
Let us know your dietary requirements at the time of booking, so that we can prepare a dinner especially for you. And please tell us if you would like a private dining experience. Our two private rooms are in hot demand!
Please note that dinner is served at a set time only, and only available for guests who booked a room 'with dinner' as we have to prepare ingredients in advance.
用餐學校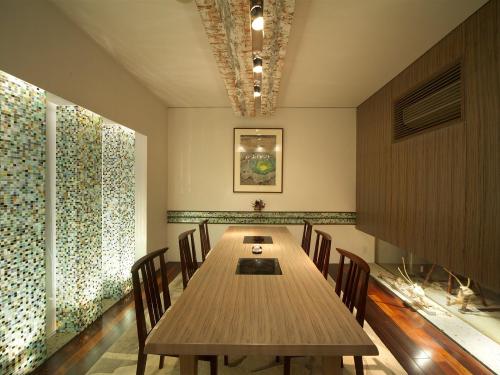 凜

私人房間有天然木桌和客人可以聞到woods.It的設計簡單,使客人可以享受享受有趣的用餐,沒有任何分心。這個私人房間讓你感覺你是貴賓邀請到森林中的隱藏的地方。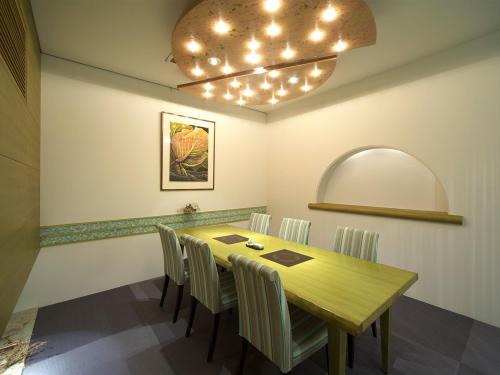 雫

客人可以感受到綠色的私人房間感受大自然。這個概念使客人感到平靜和舒適。請享受溫馨的氣氛日本cuisne。
Our two private rooms are in hot demand. And as we only have two rooms, please let us know if you would like to book the private rooms well in advance.